Omagh bombing: Families sue NI chief constable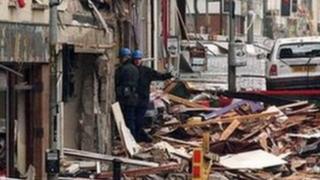 Relatives of the Omagh bomb victims are to sue Northern Ireland's police chief for failings they believe let the killers escape justice.
Ahead of next week's 19th anniversary of the Real IRA bombing, bereaved families have issued a writ against Chief Constable George Hamilton.
It focuses on what happened afterwards and why no-one has been successfully convicted in a criminal court.
The 1998 atrocity in the County Tyrone town killed 29 people.
This is the latest legal challenge in the families' two-decade quest for justice.
Omagh bomb timeline
Michael Gallagher, whose 21-year-old son Aiden died in the bomb, said they needed answers.
"Here we are 19 years on and the criminals responsible for this are still walking the streets – there has been absolutely no punitive measures taken against any of them," he said.
"We can't walk away and say 'it's just one of those things'."
The relatives have already successfully sued four republicans in a landmark civil trial that found they were responsible for the bombing.